Why it is changing and what the benefits are.
What are the benefits of this new style of licence?
The plastic card driving licence has a number of benefits. It will be:
safer because of high-level security features;
recognisable because it will be a standard format throughout the EU states;
convenient to carry and less likely to be damaged because it is a neat size and made of polycarbonate.
Also, the licence will have a microchip in it which will, from January 2014 contain all the information relating to the licence. This will provide additional security and protection against fraud. The microchip will enable the licence to be read by special card readers which will be managed by the RSA and will be available to An Garda Síochána.
Organ Donors
You can record your desire to be an organ donor on your licence or permit. The licence/permit will contain a certain code that will make medical practitioners aware of your intention. However in keeping with the current legal position your next of kin will be consulted in the event of any decision of this nature.
What does the learner permit/full licence look like?
The learner permit and full licence are in a credit-card sized format.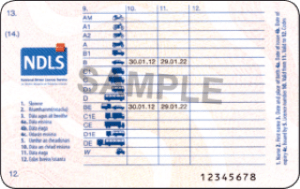 Licence features
1. Surname
2. First Name
3. Date and Place of birth
4. a) Date of issue; b) Date of Expiry; c) Issued by; d) Driver Number
5. Licence Number
6. Photograph
7. Signature
8. Address
9. Categories
10. Date Issued from
11. Date Issued to
12. Additional Information / Restrictions
13. Administrative information
14. Optional for information in relation to licence or Road safety
How long are licences valid for?
Driving licences for the lower categories i.e. cars and motorcycles will continue to be valid for ten years or for a specified period based on the age of the applicant as detailed below:
If the applicant is under 60, he/she can apply for a 10 year licence
If the applicant is between the ages of 60 and 66, he/she can apply a licence that will expire when they reach the age of 70
If the applicant is between the ages of 67 and 69, he/she can apply for a 3-year licence,
If the applicant is 70 years of age or over, he/she can apply for either a 3 year or a 1 year licence (subject to certification of fitness to drive by a doctor)
However, for those driving trucks and/or buses the validity period of the licence for those categories will be reduced to five years.
Learner permits will continue to be valid for a period of two years.

HGV and bus drivers
Under the new EU Directive, HGV and bus licences will now only be valid for a five-year period. For more information see Changes to licence categories. For a complete list of FAQ's click here.